LifeLine Adventure Seat Pack Saddle Bag
Code: prod191992
LifeLine Adventure Seat Pack
The Lifeline Adventure Seat Pack allows you to pack for overnight stays. Pack a change of clothes, a small towel or something casual for when you're off the bike.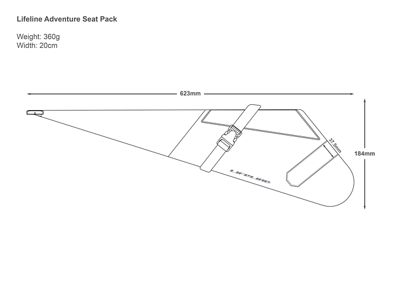 This bag is made from a Lightweight 300D Polyester Ripstop with TPU coating and feature a fully welded construction.
Fits like a Traditional Saddle Bag
The Adventure Seat Pack attaches like a traditional saddle bag with straps under and over the saddle rails and then a stabilising large retaining strap around the seat post.
7.5-litre Volume for Convenient Storage
The bag has a generous maximum volume of 7.5 litres and can be rolled down should you wish to ride with a smaller load. The maximum length is 63cm, providing a generous pack for your adventure essentials.
Stable, Secure and Reliable
The robust hypalon straps are sized to minimise 'on the bike' interference but maximise the stability of the bag- wide strap mounting to the seat post and narrower straps for the saddle rails. Plus, there are webbings on the upper and lower of the tail allowing you to attach lights, flip flops or anything easily attachable.
Material: 300D Polyester Ripstop with TPU Coating Welded Construction
Volume: 7.5L
Size: 63cm x 32.5cm
Weight: 360g
Colour: Black
Clothing Size: One Size
Order Details
Image
Product Code
Name
Brand
Price
Stock
QTY
sku758095
Black One Size
LifeLine
£

40.00

In stock